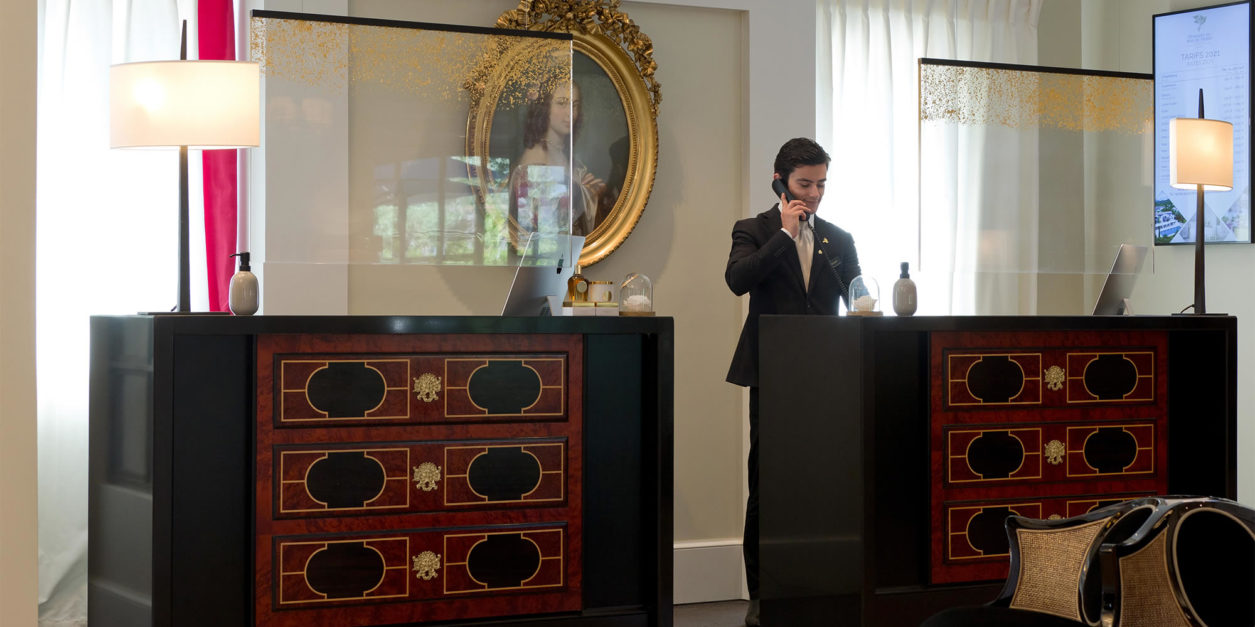 Pass & Sanitary Charter
Domaine du Mas de Pierre
Your stay in complete serenity
The "Sanitary Pass "
Dear Guests,
As of July 21, access to our hotel indoor and outdoor swimming pools and their facilities requires a proof of Covid-19 status (or "pass sanitaire") QR code valid on the first day of your stay and for its entire duration, controlled with a proof of identity. Your "pass sanitaire" documents can be shown in paper format, digitally, or through the phone application TousAntiCovid: a Covid-19 test (rapid antigen or PCR) showing a negative result and taken within the past 48 hours, a Covid-19 vaccination certificate showing full vaccination, a Covid-19 test (rapid antigen or PCR) showing a positive Covid-19 result, taken between 11 days and six months prior. This protocol may change over time due to the evolution of the situation.
On the date chosen by the French (August 9) government, we will have to apply new regulations at our hotels. These measures relate to all services provided by our establishments.
• On arrival:
We will therefore request from each guest / customer upon their arrival :
– a negative PCR or antigen test carried out with the previous 48 hours
– OR a certificate showing full vaccination
– OR a covid recovery certificate.
These items must be accompanied by a QR code or an international vaccination card* in order for the required checks to be carried out on arrival.
Check will be made on entering our hotel grounds. This means that guests who are unable to provide proof of a valid health pass will be unable to access our services. The health and safety of our guests is our priority.
• During the stay:
Guests will be able to have an antigen test carried out by health professionals (pharmacy, laboratory, medical center), by appointment, and situated close to our establishment.
Our teams will be able to provide you with all the information you need to make it easier to book an appointment.
The Sanitary Charter
The entire Domaine du Mas de Pierre team has taken the necessary sanitary measures to guarantee you a peaceful stay.
At Domaine du Mas de Pierre, we guarantee a safe and secure guest experience on arrival, during your stay and on departure.
1/ OUR TEAM IS COMMITTED TO
• Comply with the guidelines and recommendations of the public authorities regarding the fight against COVID-19.
• Respect barrier gestures.
• Respect social distancing.
• Wear masks.
• Wash their hands regularly with soap or hydroalcoholic gel.
• Self-quarantine in case of symptoms of COVID-19.
2/ ON ARRIVAL
• Reception protected by a Dacryl wall.
• Floor markings to comply with the social distancing regulations.
• Provision of hydroalcoholic gel and disinfectant wipes.
• Systematic disinfection of our reception equipment (pens, counter, credit card reader and room cards) after each handling.
• Simplified arrival procedures.
3/ DURING YOUR STAY
• Provision of an in-room sanitary kit for your needs (masks, hydroalcoholic gel and disinfectant wipes).
• Housekeeping team providing service during your absence and at your convenience.
• Each room attendant has a personal cleaning kit. Rooms are thoroughly disinfected before your arrival and after your departure using professional equipment.
• Cleaning common areas (toilets, lift, door handles, doorbells, stair railings, etc.) is regularly done with virucidal products.
• Simplified departure procedures (contactless payment transaction and invoice e-mailing).
4/ TO DRINK & DINE
• Restaurant service using a selection of local and seasonal produce, according to the hygiene and social distancing regulations.
• Room service available at breakfast, lunch and dinner. Room service trays will be left outside your room door to limit contact.
• A picnic offer is available to take away.
5/ TO UNWIND
• Access to the SPA by appointment only.
• Specific areas shall remain closed to comply with the hygiene and social distancing regulations. Our hotel team will provide you with a list of all available amenities.
6/ OUR RECOMMENDATIONS
• Wash your hands regularly with soap or hydroalcoholic gel.
• Wear a mask in all common areas.
• Respect all the barrier gestures and physical distancing in force.
• When leaving the room, open the window and turn off the air conditioning for the safety of our team.
We take everyone's health very seriously and do our utmost to provide the best service in a safe environment.
If you have any questions or require further information, please do not hesitate to call us on +33(0)4 93 59 00 10