Nearby
Le Mas de Pierre, hotel in the heart of Provence
Nearby Le Mas de Pierre you will discover a unique natural and cultural heritage. Visit the most beautiful villages of the Côte d'Azur as Saint-Paul, Vence, Tourettes sur Loup, Eze, La Turbie, Gourdon, Saint Martin de Vésubie, the countryside with its breathtaking landscapes and the famous beaches of the Mediterranean Sea.
Enjoy sports and fun activites like golf, tennis, nautical activities on the river or on the sea, hiking. Your children will be pleased by pony ride, adventure parc in the forest, Marineland, go-karting…
Get more information and book your favorite activities through our Concierge. Welcome to the heart of the Côte d'Azur.
Download brochure
Proposed activities nearby le Domaine du Mas de Pierre
Golfs courses

Several golf courses are located less than 30 minutes driving from Le Domaine du Mas de Pierre :
• Golf Country Club Cannes Mougins
• Royal Mougins Golf Club
• Golf Club in Saint-Donat

We do have partnerships with the above and others for our guests.

Tennis courts

A tennis court is located near the hotel :
• Tennis Club in Vence (4 kms)

More activities:

• Natural parc « Mercantour »
• Equestrian centre (Villeneuve-Loubet, 5 kms)
• Jogging (several paths depart from the hotel)
• Mountain biking and road biking (possibility to rent and deliver to the hotel)
• Paragliding
• Hiking (several trails in the surrounding hills)
• Canyoning
• Rafting
• Quad biking
• A petanque game on the famous square of the village of Saint-Paul-de-Vence

Nautical activities

Cradle of water activities, our regions offers the below at less than 10 kms :
• Boat trip
• Jet ski
• Parasailing
• Water ski / Paddle
• Daily boat rental…

VIB activities*

Specifically designed for children, the area offers:
• Pony club « La Loubière »
• Le Pitchoun Forest (educational adventure trail devoted to life in the forest)
• "Canyon Forest"
• "Labyrinthe de l'aventure"
• Go-Kart Club
• Marineland in Antibes (themed amusement park and zoo for both marine and land animals)
• Parc Phoenix in Nice…

*Very Important Babies
Unique concept at Le Domaine du Mas de Pierre.

Cultural activities

A region full of cultural and natural heritage :

• The most beautiful villages of the Côte d'Azur : Saint-Paul, Vence, Tourettes-sur-Loup, Eze, La Turbie, Gourdon, Saint-Martin-de-Vésubie…

• The greatest museums of the Riviera: the Maeght Foundation in Saint-Paul, « La Chapelle du Rosaire » in Vence, the Matisse and the Chagall museums in Nice, the Picasso museum in Antibes, the Monaco Oceanographic Museum, the Museum of Modern and Contemporary Art of Nice…

• The regional craftmanship offers typical perfumes factories in Grasse (Fragonard), the L'artisanat de la région vous propose les parfumeries typiques de Grasse (Fragonard), the confectionery Florian in Bar-sur-Loup, the glass factory in Biot, the potteries of Vallauris…

• The markets : discover the craftmaship and regional products in Antibes, Nice, La Colle sur Loup or Saint-Paul, where you will meet greengrocers and get a taste of wines, typical provençal products as tapenade, anchovy puree …

All these activities are proposed by our Concerge who is at your entire disposal for more information and bookings during your stay.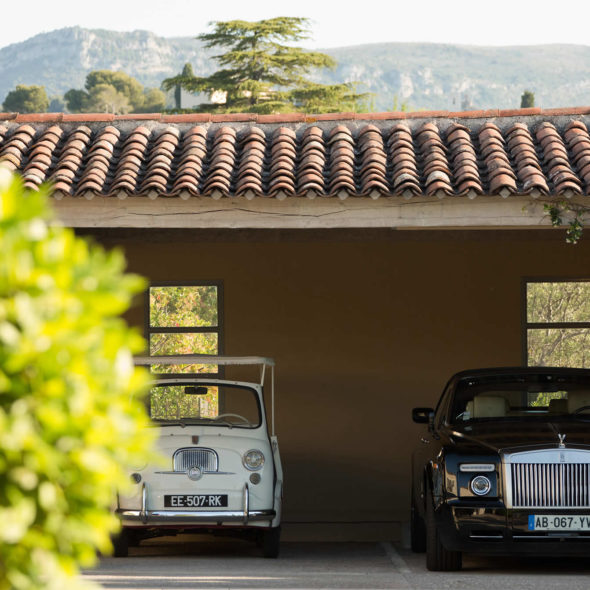 Bicycles or Rolls Royce
Guests' airport pick-up or sightseeing to the village of Saint-Paul-de-Vence or the Maeght Foundation, the Domaine's Rolls Royce and its driver, both wearing the insignia of Domaine du Mas de Pierre, offer an exclusive tour and unique experience on the most beautiful roads of Provence.
A Fiat 500 convertible will take you through the most beautiful Provençal countryside and olive groves in a discovery tour of the village and its surroundings. The hotel is also equipped with EV terminals.
Thanks to our electric bikes, available for half or full-day, enjoy an effortless bike ride across the region and the terroir Provençal.
Electric bikes rental:
• the day : € 70/ pers.
• half day: € 50/ pers.
Culture and Heritage
From hikes to electric bike rides in the hinterland, from boat trips to cultural discoveries in the village of Saint-Paul-de-Vence, including visits of the Maeght Foundation and Matisse chapel, a genuine immersion into the Southern French culture and tradition awaits you.
Let our concierge organise custom circuits and private visits just for you!
View ont the hills of Saint-Paul de Vence
Funtain in the heart of Saint-Paul de Vence
Mediterranean coast with view on Nice's port
Village of Saint-Paul de Vence
View on la Promenade des Anglais
Gifts & Packages
Le Mas de Pierre has put together its best offers and gift boxes so that guests can share the spirit of the hotel with their loved ones : gift boxes, special offers, last minute getaways etc.
Find many gift ideas !
SPA Membership

Rate for 10 treatments including 10 spa accesses :
Individual package : 1 650€
Couple package : 2 990€

Club Membership

Club Membership
"Voluptuous"
Club Membership
"Wellness"

"Relaxation & Volupté" break

Enjoy during a stay, a moment only for you at the Domaine du Mas De Pierre with a Signature treatment at the SPA.
Package at € 480 / person*

"Evasion & Gastronomy" break

Delight your taste buds and enjoy a weekend in one of the most beautiful Domaine on the French Riviera,
located just near the world-famous medieval village of St Paul de Vence.
Package at € 345 / person*

"Relaxation & Bistronomy" break

Enjoy a convivial moment at the Domaine du Mas de Pierre
with a dinner at Bistro Lis Orto.
Package at € 310 / person*

"Relaxing and gourmet" Day

Enjoy a quiet day
at the Domaine du Mas de Pierre
Package at € 250 / person*

Your "Wellness Escape"

Discover the advantages offered in our 2000 sqm spa
combining well-being, relaxation, escape and olfactory discovery.
Package at € 150 / person*
See more